03
Strategy and management
Key figures
In 2020, we spent RUB 183.3 bn (16.4% of consolidated IFRS revenue) on SDG-linked projects.
Key events and facts
In 2020, Nornickel developed a Holistic Environmental Strategy that reviewed approaches to environmental risk management, water resources management, biodiversity restoration, and climate change issues, as well as presented goals and investment volumes in each area.
Mission and values
The Company seeks to foster a group-wide corporate culture of partnership and mutual respect shared by every employee. This will help us effectively implement our strategy based on sustainable development principles and enhance the Company's business reputation «Норникеля»* . 102-16
Our mission
Through the efficient use of natural resources and equity, we supply mankind with non-ferrous metals, which make the world a more reliable place to live in and help people realise their aspirations for development and technological progress.
Nornickel's corporate values
Reliability
Ability to address any challenges to ensure success for the business
Growth
Effective production ramp-up and upgrade, leverage of groundbreaking technologies and development of our people
Collaboration
Commitment and ability of our employees to achieve goals and objectives through teamwork
Professionalism
Ability to ensure a sustainably strong performance
Responsibility
Desire to honour our commitments and take on responsibility for our decisions
Efficiency
Delivering against our targets in due time and at minimum cost
Strategic vision
The global transition to a green economy and growing ESG expectations of stakeholders offer a unique opportunity for the Company to become a key responsible player in the metals market leading the way in terms of low-carbon growth. This will allow Nornickel to make a significant contribution to the global economic framework by facilitating the electrification of the transport system and the development of renewables and hydrogen energy. The Company's stability at the fundamental level is underpinned by its traditionally reliable and well-oiled supply chain, fast-growing metal production, a high-quality product portfolio and our efforts to further diversify it.
By accomplishing its previous goals, the Company laid the foundation for advancing along its strategy with a focus on delivering market-leading shareholder returns, all while sticking to its broader sustainable development agenda.
Key sustainability trends
Nornickel is a leader of the Russian metals and mining industry. In this role, we meet Russia's and global economy's growing need for materials to manufacture products that can enhance the quality of life and facilitate the transition to a low-carbon and energyefficient economy. 102-15
ПSupplied to 37 countries, our products are used in mechanical engineering, car manufacturing, electronics, electrical engineering, petrochemical and oil refining, power generation, construction, consumer goods, healthcare, food, chemical and other industries.
Nickel consumption is predominantly driven by the stainless steel industry. These steels are used in multiple sectors – from mechanical engineering and construction to renewable energy and healthcare. The second largest nickel consumer is the battery industry, which has been growing on the back of the electrification of transport, a rise in the number of electric cars and hybrid vehicles, and the cathode material production gravitating towards nickel-rich types.
Progress of the efficiency improvement programme
Targets set in 2018*
5‒8% production growth
12‒15% increase in labour productivity
Progress in 2020*
+6% NiEq production growth
+28,5% increase in NiEq production per employee
All targets for the first stage of the efficiency improvement programme (2017–2020) have been achieved
The benefits of highly effective measures that can deliver quick improvements have been successfully made use of.
The programme moves to the next stage that will focus on transformation of business processes to facilitate the development of lean production methods
The electrical conductor industry, including the manufacture of various cables and wires, consumes up to 60% of the global refined copper output. This makes copper a key material for renewable energy development.
The main application of palladium is in automotive catalysts of gasoline engines. It is used to make catalytic converters to detoxify exhaust fumes. In most countries, such converters are legally required to be installed on all cars, and the laws are constantly growing more stringent. Palladium has unique catalytic properties enabling effective chemical reactions at every stage of a car's lifecycle. Its wide application will therefore be highly conducive to achieving the GHG emission targets and implementing the Paris Agreement in the coming decades. Palladium is also used in electronics, dentistry and jewellery manufacturing.
The transition to a green economy will drive the need for nickel, copper, palladium, and platinum. That is why we are now investing in sustainable and environmentally friendly production growth. We intend to be absolutely transparent and easy to work with for our customers by offering them new digital solutions. As an industry leader and a responsible miner Nornickel will continue to develop its strategy in a sustainable manner that is aligned with the public interest.
The automotive industry is the main consumer of platinum. Over 30 % of platinum in this industry is used to manufacture exhaust gas catalysts for diesel vehicles. The second largest consumer of platinum is the jewellery manufacturing industry representing one-third of total demand for the metal. Platinum is also used in glass manufacturing to produce glass fibre and optical glass and in electronics.
Platinum group metals, including palladium, platinum, rhodium, ruthenium and iridium that are produced by the Company, are also extensively used as catalysts to manufacture key chemicals.
A key trend for the Company is the evolution of automotive industry towards better environmental performance. The International Energy Agency's Sustainable Development Scenario contemplates the following auto mix by 2030: electric vehicles – 14%, internal combustion engine vehicles, including hybrids – 86%. By 2040, this mix will be 31% and 69%, which suggests targets for the reduction of CO2 emissions by light vehicles from 3.6 bt in 2019 to 2.9 bt in 2030 and 1.4 bt in 2040.
According to our estimates, the demand and current and potential supply under the International Energy Agency Sustainable Development Scenario until 2040 will have a positive effect on the metals produced by the Company.
Long-term trends supporting consumption growth for Nornickel's metal basket
Global decarbonisation – risk and opportunity assessment for Nornickel's metals
Strategic goals and initiatives
Our strategic goals until 2030 include mining volume growth, upgrade and expansion of processing facilities, contribution to combating climate change, implementation of Sulphur Programme 2.0 and other aspects of the Company's Holistic Environmental Strategy. To support the growth strategy and environmental projects, Nornickel updated its long-term CAPEX plan in 2020, with the active phase of its investment cycle starting in 2021.
Key goals and objectives of the strategy to 2030
Goal
Projects
Auxiliary projects
Targets
Mining volumes growth

Skalisty Mine
South Cluster

Comprehensive projects for the Talnakhskoye Deposit development:

Komsomolsky Mine
Oktyabrsky Mine
Taimyrsky Mine

Second stage of the efficiency improvement programme
Technological Breakthrough 2.0 for mining digitalisation
Building new shipment facilities for the concentrate at Kola MMC
Power infrastructure modernisation:
Expanding the pool of contractors and their development

Mining volumes growth in the Norilsk Industrial District*

By 2025
To 24–26 mt

2030 г.+
to 30–32 mt

Upgrade of processing facilities

Third phase of Talnakh Concentrator expansion
A full-scale upgrade and potential ramp-up of Norilsk Concentrator (under consideration)
Third production line at NMP
New copper refining facility at Kola MMC
Upgrade and scaling-up of Kola Division assets (Kola Peninsula and Harjavalta)

Increase in metal output (2030+)*

Nickel
20-30%

Copper
20-30%

PGM
40-50%
Holistic Environmental Strategy
As part of its updated strategic vision, the Group overhauled its approaches to environmental risk management, water resource management, biodiversity recovery, and climate change, with clear
targets set for each of the focus areas. In 2020, the Company developed a Holistic Environmental Strategy, which is going to be fleshed out during 2021.
Targets and objectives of the Holistic Environmental Strategy
Focus area
Targets*
CAPEX
Climate change

Increase the output of metals to satisfy the demand driven by the global transition to a green economy while keeping GHG emissions at the lowest level achievable in the mining industry

Planned actions:

Continue to maintain absolute GHG emissions from operations (Scope 1 and 2) at around 10 mt of CO2 equivalent through 2030 while growing production by 30–40% (Ni equivalent vs 2017)
Remain in the first quartile of the global nickel industry in terms of GHG emissions per tonne of Ni equivalent
Strive to increase low-carbon energy usage
Manage climate-related risks by developing relevant strategies and helping communities in the Norilsk Industrial District and the Murmansk Region embrace energy efficient, low carbon technologies
Stay on a path of low carbon transition by supporting and scaling up innovative solutions and encouraging inter- and cross-sectoral dialogue on climate change

To be confirmed
in 2021.
Air

Protect the environment and public health from air pollutants while meeting statutory requirements and standards regulating emissions

Planned actions:

Reduce absolute Kola Division SO2 emissions by 85% in 2021 and Polar Division SO2 emissions by 90% by 2025;
Keep other air emissions (NOx , solids, etc.) at one of the lowest levels in the industry;
• Introduce an air quality monitoring system to assess and act upon ambient air quality and dust associated with mining;
Comply with global best practices and standards in air pollution disclosure

USD 3.6 bn
Water

Nornickel prioritises sustainable use of water resources, pollution reduction, and ensuring continuous supply of drinking water to local residents

Planned actions:

Conduct a comprehensive assessment of water use to understand how much water the Company directly uses in production;
Upgrade water monitoring and control systems to improve safety of hydraulic structures at the Company's facilities and ensure the purification of drinking water that Nornickel supplies to local communities
Look for green solutions and forge partnerships with the scientific community and organisations to achieve these goals
Ensure undisrupted operation of water treatment facilities;
Analyse and implement recommendations of the Great Norilsk Expedition on sustainable water management and rehabilitation after recent incidents
Improve water use reporting by keeping a separate record of water used for production and municipal needs in the Norilsk area

USD 1.1 bn
Tailing dams
and waste

We are committed to minimising the environmental impact of waste from our operations, ensuring efficient waste management practices, finding alternative uses for the remaining waste, implementing responsible sourcing, and safely operating tailings facilities

Planned actions:

Introduce the global industry standard on tailings management
Apply technically and financially feasible principles and techniques for the efficient use of resources and pollution prevention in order to avoid, or, where impossible, minimise the adverse impact on human health and the environment from waste generated as a result of our operations
Work with experts and business partners to ensure that waste management strategies minimise the risks to local communities

USD 0.6 bn
Land

Nornickel focuses on the rehabilitation of all land affected by construction, mining and emissions caused by its operations, and carries out regular audits of plant and mine closure plans

Planned actions:

Develop a rehabilitation program for land affected by construction and mining
Audit asset closure plans
Follow recommendations of the Great Norilsk Expedition on soil recovery
Continue waste collection and land reclamation in the Norilsk area
Continue land rehabilitation activities, including outside of our operational sites

USD 0.3 bn
Biodiversity

Nornickel recognises the importance of biodiversity and conservation. The Company's environmental policy seeks to encourage activities aimed at understanding the short- and long-term impacts of our mining operations on biodiversity and develop measures to minimise the Company's environmental footprint

Planned actions:

Apply a rigorous scientific approach to establish a biodiversity baseline and understand our impact on ecosystems in the areas of our operations
Enhance our internal policies and procedures to avoid or minimise any future negative impact on biodiversity and terrestrial ecosystems
Develop and implement a clear mitigation hierarchy for current and new operations to strengthen our risk management approach towards biodiversity
Enhance the reporting of quantifiable data on our impact on biodiversity and improve the transparency and efficiency of our collaboration with numerous natural reserves across Russia

To be confirmed
in 2021.
Nornickel's support for sustainable development initiatives and standards
We support leading global and national initiatives in sustainable development often pioneering integration of their requirements into our policies and governance practices. Back in 2005, Nornickel was among the first Russian companies to join the Social Charter of the Russian Business adopted by the RSPP. In 2018, the Company was Russia's first business taking part in the project of reporting on contribution towards the implementation of the UN Sustainable Development Goals (UNCTAD). In 2020, the Company launched self-assessment for compliance with the requirements of the Initiative for Responsible Mining Assurance (IRMA) and of the International Council on Mining and Metals (ICMM). In 2021, we will also continue furthering the practice of reporting in line with the standards of the FSB Task Force on Climate-Related Financial Disclosures (TCFD).
On top of that, the Company contributes substantially to the country's National Projects in healthcare, environmental protection, housing and urban environment, productivity, employment, science, and digital economy.
183.3
RUB bn
spent in 2020 on SDG-linked projects (16.4% of consolidated IFRS revenue).
Nornickel and UN Sustainable Development Goals
The UN Sustainable Development Goals (SDGs) up to 2030 accepted internationally in 2015 are a high-level guidance set to bring the authorities, business and the public together to address the issues of sustainable development, and to protect the planet. Nornickel fully supports these SDGs, and their integration into the Company's strategy was initiated back in 2018. Based on stakeholder engagement, we selected and looked into those SDGs that are relevant to our operations. In 2019, we performed an in-depth analysis of SDGs and matched them, among other things, against our current strategy, material risks, goals and commitments, investments in relevant projects and best peer practices.
As a result, we identified six central SDGs:
Goal 3: Good Health and Well-being;
Goal 8: Decent Work and Economic Growth;
Goal 9: Industry, Innovation and Infrastructure;
Goal 11: Sustainable Cities and Communities;
Goal 12: Responsible Consumption and Production;
Goal 13: Climate Action.
Starting 2019, the Company includes more data on its contribution towards UN SDGs in its sustainability reports.
Nornickel's support for initiatives, standards, and participation in associations focused on sustainable development and corporate social responsibility
UN INITIATIVES

UN conventions
UN Global Compact
National Global Compact Network Association (Russia)
Sustainable Development Goals of the UN 2030 Agenda

GLOBAL AND NATIONAL MANAGEMENT STANDARDS

ISO 14001:2015
ISO 9001:2015
OHSAS 18001:2007 / ISO 45001:2018
ISO/IEC 27001:2013
ISO 26000:2010
GOST R ISO 26000-2012
AA1000AP, AA1000SES

INTERNATIONAL ASSOCIATIONS AND CHARTERS

International Labour Organisation conventions
International Platinum Group Metals Association
International Information Security Research Consortium
Nickel Institute
GRI Community

RATING AGENCIES AND INDICES

FTSE4Good Index
Sustainalytics
MSCI
ISS Corporate Solutions
S&P Global
CDP
RSPP Responsibility and Transparency index and Sustainable Development Vector index

NATIONAL ASSOCIATIONS AND CHARTERS

National Association of International Information Security
Security Charter for Critical Industrial Facilities
Social Charter of the Russian Business
Anti-Corruption Charter of the Russian Business
RSPP Committee on Corporate Social Responsibility and Demographic Policies
Environmental Charter of the Krasnoyarsk Territory
Nornickel's key SDG-linked projects in 2020
SDGs
Projects and programmes
Contribution towards UN SDGs
2019
2020
Year-on year
change

Central SDG

Relevant targets:
3.4, 3.6, 3.9

Relevant national projects:

Health improvement and wellness programmes for employees and their families*
Voluntary health insurance for employees and their families*
Air protection projects*
Water conservation and sustainable use projects*
Waste management projects*
Occupational safety initiatives*
Corporate Healthcare project*
COVID-2019 response measures

Participants in health improvement programmes
24,000
13,000
-46%
VHI policy holders
71,500
72,800
+2%
LTIFR
0,32
0,21
-34%
Fatal workplace injuries
9
8
-11%

Relevant target:
4.4

Relevant national projects:

Staff training and development*
Corporate scholarships for university students and internships with Nornickel Group companies*
The World of New Opportunities charity programme: grants for educational institutions and projects*

Employees covered by Nornickel's staff training, professional development, retraining, and upskilling initiatives
90,814
70,902
-22%
University students covered by Nornickel's corporate scholarship programmes
50
90
+80%
Education projects supported under the World of New Opportunities charitable programme
71
71
-

Relevant target:
6.3

Relevant national projects:

Water use improvement and water supply projects*
Water conservation and sustainable use projects*

Effluents treated to standard quality at treatment facilities
4.56 mcm
4.34 mcm
-5%
Water withdrawal
0.36 thousand m3/ RUB mln
0.34 thousand m3/ RUB mln
-6%
Effluents
0.16 thousand m3/ RUB mln
0.18 thousand m3/ RUB mln
+13%
Pollutants in effluents
0.24 t / RUB mln
0.22 t / RUB mln
-8%
Share of total used water recycled and reused
87,2%
86,4%
-1.2 pp

Relevant targets:
7.1, 7.3

Relevant national projects:

Rollout of the Automatic System for Commercial Accounting of Power Consumption across Polar Division*
Energy efficiency and energy saving projects*
Projects to upgrade power and heat generation, electrical grids and heat networks*

Fuel and energy savings resulting from energy consumption reduction and energy efficiency improvement initiatives
3,184 TJ
4,084 TJ
+28%
Share of renewables in the Group's power consumption
44,5%
46%
+1.5 pp

Central SDG

Relevant targets:
8.2, 8.4, 8.5, 8.8.

Relevant national projects:

Ensuring decent compensation for labour*
Securing employees' involvement in social partnerships*
Programme to improve the workers' social and living conditions
Health and safety initiatives
Ensuring employees' involvement in improvement of the health and safety system*
The Operating Unit's investment projects (concentration and metal production)

Average monthly salary
RUB 118,800
RUB 131,800
+11%
Employees covered by collective agreements
83%
93,7%
+10.7 pp
Social facilities commissioned after renovation
26
138
+431%

Central SDG

Relevant targets:
9.1, 9.4, 9.5

Relevant national projects:

Projects to increase production and upgrade processing facilities
Projects aiming to develop local communities' infrastructure (including transport accessibility improvement) as part of a public-private partnership and agreements with local administrations*
Projects to develop power and heat generation, electrical grids and heat networks
Research and development (R&D) and feasibility studies aimed to update Nornickel Group's Development Strategy, expand production and protect the environment*
Transportation and logistics projects
Operational and management digitalisation projects*
Enhancing the reliability of the fibre optic communication line in Norilsk*

Digitalisation expenses
RUB 6.7 bn
RUB 7.2 bn
+7%
Expenses on R&D and feasibility studies*
RUB 128.2 mln
RUB 104.0 mln
-19%

Relevant target:
10.7

Relevant national projects:

Complementary Corporate Pension Plan
Relocation assistance to new employees*
Assistance programme for residents of Norilsk and Dudinka relocating to regions with better climate and socioeconomic conditions
Our Home and My Home social programmes (purchase of apartments for employees in various Russian regions)

Complementary corporate pensions paid
RUB 394.8 mln
RUB 411.3 mln
+4%
Expenses on relocating Norilsk and Dudinka residents to regions with better climate conditions
RUB 830 mln
RUB 830 mln
—
People covered by the relocation assistance programme
352
829
+136%

Central SDG

Relevant target:
11.6

Relevant national projects:

«Sulphur Programme 2.0»*
Air protection projects*
Waste management projects (including projects to eliminate inherited waste)*
Response to environmental incidents
Other environmental protection activities*

Air pollutant emissions
2.22 t / RUB mln
1.76 t / RUB mln
-21%

Central SDG

Relevant targets:
12.2, 12.4, 12.5, 12.6

Relevant national projects:

Waste management projects*
Other environmental protection activities*

Waste generation*

36 mt
145 mt
+302%
Non-hazardous class 5 waste
97%
99%
+2%
Waste generation
0.04 kt / RUB mln
0.13 kt / RUB mln
+225%

Central SDG

Projects to upgrade power and heat generation, electrical grids and heat networks
Energy saving and energy efficiency improvement initiatives

GHG emissions (Scope 1 and 2)
9.95 mt of CO2 equivalent
9.70 mt of CO2 equivalent
-3%
GHG emission intensity (Scope 1 and 2)
11.32 tonnes of CO2 equivalent per RUB 1 mln of consolidated revenue
8.68 tonnes of CO2 equivalent per RUB 1 mln of consolidated revenue
-23%

Relevant targets:
15.1, 15.5

Relevant national projects:

Cooperation with nature reserves (support for research and educational projects at the Pasvik, Lapland, Relict Oaks and Urumkansky nature reserves, Joint Directorate of Taimyr Nature Reserves, etc.)*
Response to environmental incidents
Scientific expeditions
Fish stocking at water bodies across the regions of operation

Total area of supported nature reserves and parks
2,334,000 ha
2,334,000 ha
—
Release of fingerlings of valuable fish species into natural water bodies across the regions of operation
205,000
136,000*
-34%

Relevant target:
16.5

Anti-corruption measures
Raising awareness of its anti-corruption practices among Nornickel Group's employees

Confirmed incidents of corruption
0
0
—
Operating business units involved in anti-corruption activities
100%
100%
—
Employees educated on anti-corruption practices
100%
100%
—

Relevant targets:
17.16

Cooperation with federal legislative and executive authorities, civil society institutions, and the business community
Reporting on the Company's contribution to the achievement of UN SDGs in line with the UNCTAD guidance
UN Global Compact membership and related reporting
Plans to join other major sustainable development initiatives (ICMM, IRMA, TCFD)
Support for corporate volunteering

Working bodies (committees, expert and working groups, etc.) established by NGOs and government authorities where Nornickel Group is represented
23
25
+9%
Risk management framework
An efficient risk management framework is instrumental in helping the Company to deliver its strategic and day-to-day goals.
The Company's risk management involves the following key stages:
identifying external and/or internal risks;
assessing the risks in terms of their impact on key financial and non-financial metrics;
developing and implementing risk prevention and/or mitigation measures.
The Company's key risk management regulations:
Corporate Risk Management Policy*
Corporate Risk Management Framework Regulations
Internal Control Policy
Key risk management responsibilities and functions
BOARD OF DIRECTORS
102-26

---

AUDIT AND SUSTAINABLE DEVELOPMENT COMMITTEE OF THE BOARD OF DIRECTORS
KEY FUNCTIONS:

Approving the Corporate Risk Management Policy
Supervising the process of building the risk management framework
Submitting the Company's Risk Appetite Statement (annually)
Continuous management of strategic risks
Reviewing and approving the risk management roadmap and assessing the progress (annually)
Reviewing reports on strategic and key risks (annually/quarterly)
Assessing risk management efficiency (annually)

MANAGEMENT BOARD

---

RISK MANAGEMENT COMMITTEE OF THE MANAGEMENT BOARD
KEY FUNCTIONS:

Reviewing strategic risks and reports on key risks
Reviewing the materialised risks and key takeaways
Reviewing risk appetite parameters
Risk management decision-making with regard to key risks
Reviewing Business Continuity Plans
Reviewing CRMF and ICS development strategy and plans
Reviewing the performance of Steering Risk Management Committees of Units

RISK MANAGEMENT SERVICE
KEY FUNCTIONS:

Drafting and updating the risk management methodology
Reporting on Top 20 risks (quarterly)
Reporting on strategic risks (annually)
Strengthening quantitative risk assessment using simulation modelling
Developing a business continuity management framework
Educating and training employees in hands-on risk management practices

RISK OWNERS / HEADS OF BUSINESS DIVISIONS
KEY FUNCTIONS:

Managing risks on a day-to-day basis as part of the integrated risk management model
Risk-oriented decision-making

INTERNAL AUDIT
KEY FUNCTIONS:

Conducting an independent evaluation of the effectiveness of risk management, internal control and corporate governance (annually)
The risk management framework is based on the principles and requirements of the Russian and international laws and professional standards, including the Corporate Governance Code recommended by the Bank of Russia, GOST R ISO 31000:2019 (Risk Management) and COSO ERM (Enterprise Risk Management – Integrating with Strategy and Performance).
To manage production and infrastructure risks, the Company develops, approves and updates business continuity plans that in case of emergency set out:
procedure to coordinate the activities of functions in order to save the lives of people, minimise damage to property, and ensure the stability of processes;
operations support or resumption plan;
rehabilitation or reconstruction plan for affected assets.
Structure of the risk management framework
We have formalised our risk management structure, allocating relevant roles and duties to all employees. The Board of Directors defines the principles and approaches to organising a risk management framework and oversees its performance. 102-29 102-30
Improving the risk management framework
In 2020, the Company made the following efforts to enhance its risk management framework:
established the Risk Management Committee that supports the Management Board and is led by the Company's President, and a number of dedicated committees to manage risks at separate functions. The Risk Management Committee aims to improve and develop the corporate risk management framework;
started a project to introduce a GRC-based automated risk management system capable of establishing key risk indicators;
provided regular training on risks to the Group's employees;
to update the risk management roadmap, underwent a self-assessment and conducted an external maturity evaluation in respect of the corporate risk management framework and a number of business lines to confirm alignment with best global practices;
to ensure risk-oriented decision-making, the Company's investment committees regularly reviewed the results of quantitative risk analysis for investment projects;
as part of rolling out simulation modelling to investment risk assessment, the Company assessed the combined impact of risks of key investment projects on the Company's financial and operating metrics (the assessment considered potential scenarios under each of the investment projects);
the Company set up an inspection for monitoring technical, production and environmental risks within the Internal Control and Risk Management Unit. It will focus on streamlining the processes relating to identification, analysis and assessment of technical, production and environmental risks;
the Company took a scenario-based risk assessment approach for investment projects exposed to the impact of COVID-19;
a number of tasks were solved as part of our efforts to develop scoring methods for evaluating specific technical and production risk categories.
In accordance with plans to improve the risk management framework, the following work streams have been identified for 2021 and beyond:
development of a special-purpose quantitative model for evaluating equipment failure risks at Kola MMC, including development of a buildings and structures monitoring system for automated risk recording and prevention at Norilsk Division;
regular self-diagnostics and assessment of the risk management framework for compliance with global best practices;
continued improvement of risk management practices in strategic and operational planning;
further enhancement of simulation modelling as an approach to assess investment project risks;
methodology enhancement to analyse various categories of technical and production risks;
methodology enhancement to account for climate risks;
analysis of risks within the Company's supply and production chain;
implementation of the project for risk management automation based on SAP GRC RM.
Insurance
Insurance is one of the key tools for managing risks and protecting the assets of the Company and its shareholders against any unforeseen losses related to our operations, including due to external hazards.
To ensure consistent application of the Group's uniform policies and standards, the insurance function is centralised. Every year, the Company approves a comprehensive programme that defines key parameters by insurance type, key business line and project. Nornickel runs a corporate insurance programme that covers assets, equipment failures and business interruptions across the Group. Our corporate insurance contract is issued by major Russian insurers in cooperation with an international broker. This helps us make sure that our risks are underwritten by highly reputable international re-insurers.
The same principles of centralisation apply to our freight, construction and installation, aircraft and ship insurance arrangements. The Group companies, as well as its directors and officers, carry business and third-party liability insurance. To secure the best insurance and risk management terms, we follow the best mining industry practices and trends in the insurance market.
Map of key sustainability risks
The risks to the Company's sustainability goals are mainly related to occupational health and safety, power blackouts at production and social facilities in the NID, environmental and conservation legislation, social and labour relationships and shortage of qualified workforce in regions of operation, information security, insufficient water resources and soil thawing.
The most significant risks in terms of their impact on the Company's goals are shown on the map of key sustainability risks.
In 2020, the technical and production risk materialised when above-ground storage tank No. 5 at HPP-3 was destroyed, resulting in a diesel fuel spill accident. Facilities of HPP-3, including tank No. 5, underwent risk assessments on a regular basis. The risk of the tank being destroyed had been identified earlier, with the probability of the risk event occurring assessed as low. The risk was assessed based on a number of expert documents (including the industrial safety assessment report and the industrial safety declaration that was issued by an expert organisation and registered with the Federal Service for Ecological, Technological and Nuclear Supervision – Rostechnadzor) and the internal NTEC risk management regulations.
Investigations showed that the risk materialised mainly due to some of the piles failing to penetrate the hard rock as required by the design documents. The Company conducted a thorough reassessment of risks related to hazardous production facilities and expanded the power infrastructure upgrade programme. On top of that, it developed a set of initiatives, including a project to set up geotechnical and satellite monitoring of its facilities in permafrost areas.
As part of its efforts to adapt to global challenges caused by the pandemic, Nornickel identified the risk of COVID-19 impacting its production programme and staff. Managing this external risk effectively is essential to securing our stability in the long run and maintaining our competitiveness in metals markets.
Risk map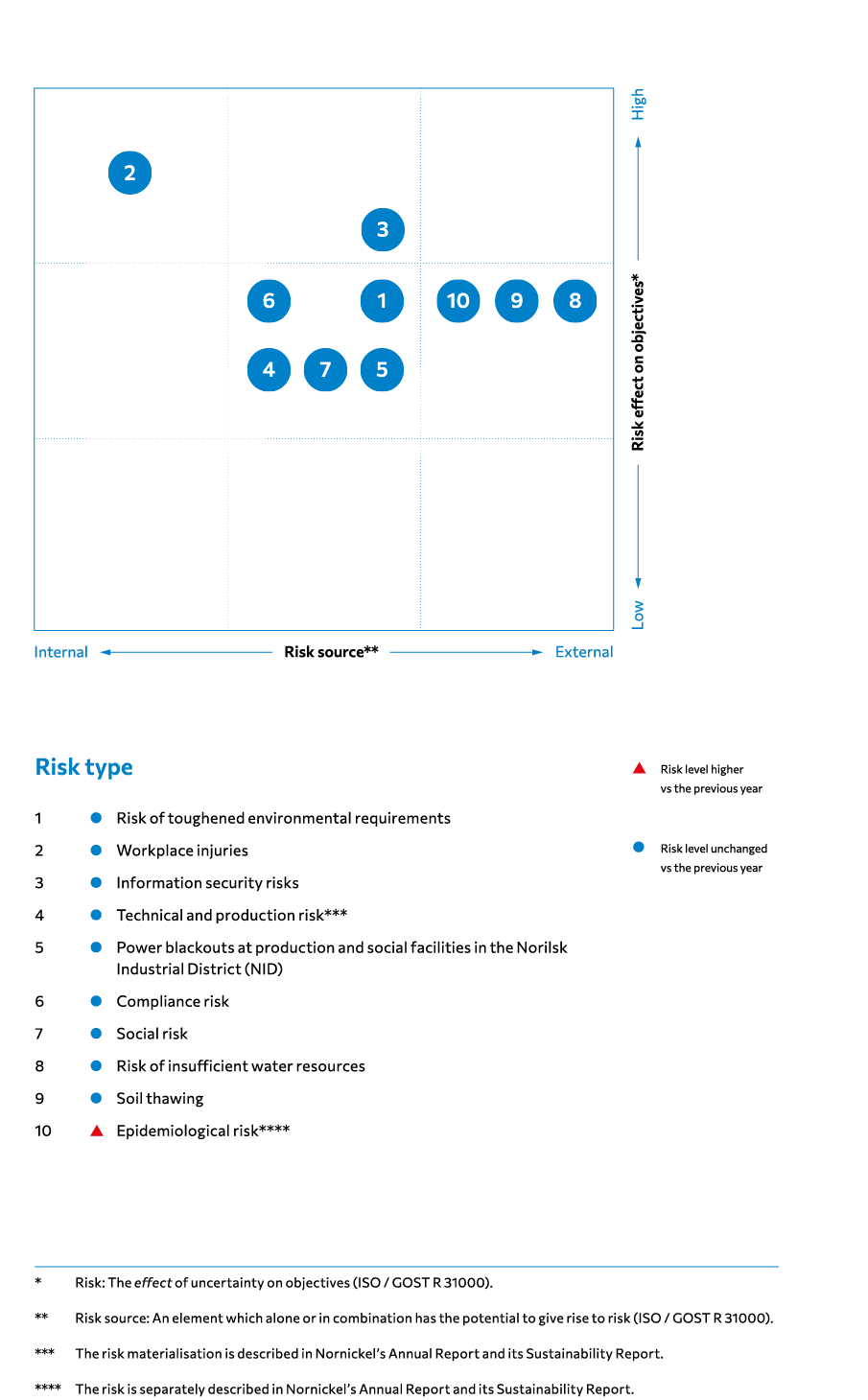 Key sustainability risks
This section presents the key linked to our sustainability priorities. For more details on other risks, please see our Annual Report for 2020. 102-15
1. Risk of toughened environmental requirements
Description
Mitigants

Environmental requirements and procedures for obtaining permits become more stringent as the government tightens controls on compliance in this area.

Key risk factors:

Emphasis placed by domestic and international communities on environmental protection and sustainable development
• Legal framework remaining in constant flux (with changing procedures for obtaining permits)
Emission quotas to be introduced in twelve Russian cities, including Norilsk and Krasnoyarsk, as part of an experiment in 2020–2024
More stringent environmental controls

Risk assessment

Risk level change y-o-y

none

To manage this risk, the Company:

reviews the applicable laws and proposed amendments;
implements an environmental action plan to reduce emissions and discharges, and to ensure timely waste management;
developed an Environmental Performance Enhancement Programme (EPEP) for category 1 facilities of Polar Division;
drafted documents for obtaining a comprehensive environmental permit for category 1 facilities of Polar Division;
takes action to reduce emissions during unfavourable weather conditions as provided by the Plan approved by the Ministry of Environment Protection and Natural Resources of the Krasnoyarsk Territory;
ensures the collection and submission emissions data of Polar Division and Russian business units for the consolidated calculation of dispersion in Norilsk, as part of an experiment to introduce emission quotas in twelve Russian cities;
ensures the involvement of its representatives in working groups of steering committees, regional ministries and government agencies;
takes part in joint projects with nature reserves in the Company's regions of operation.
2. Workplace injuries
Description
Mitigants

Failure to comply with the Group's health and safety rules may result in threats to employee health and life, temporary suspension of operations and property damage.

Key risk factors:

Unsatisfactory organisation of operations
Process disruption
Exposure to hazardous factors

Risk assessment

Risk level change y-o-y

none

Pursuant to the Occupational Health and Safety Policy approved by the Company's President, the Company:

continuously monitors compliance with health and safety requirements;
improves the working conditions for its own and contractors' employees deployed at the Company's production facilities, including by implementing new technologies, labour saving solutions and enhances industrial safety at production facilities;
provides staff with certified modern personal protective equipment;
implements preventive healthcare measures and sanitary and hygienic practices to reduce the potential impact of hazardous and dangerous production factors;
provides its employees with regular training and instructions and assesses their performance in occupational health and safety (OHS), conducts corporate workshops, where, among other things, special simulation equipment is used;
strengthens the methodological framework in OHS, including by developing and introducing corporate OHS standards;
reviews the competencies of line managers at the Company's production facilities, develops OHS training programmes and arranges relevant training sessions;
holds OHS competitions;
provides all employees with updates on the circumstances and causes of accidents, conducts ad hoc themed instruction sessions;
introduces frameworks to manage technical, technological, organisational and HR changes.
3. Information security risks
Description
Mitigants

Potential cyber crimes may result in an unauthorised transfer, modification or destruction of information assets, disruption or lower efficiency of IT services, business, technological and production processes of the Company

Key risk factors:

Growing external threats
Unfair competition
Rapid development of IT infrastructure and automation of production and business processes
Employee and/or third-party wrongdoings
Switch to remote working and engagement of remote workforce outside the regions of the Company's operation

Risk assessment

Risk level change y-o-y

none

To manage this risk, the Company:

complies with applicable Russian laws and regulations with respect to personal data and trade secret protection, insider information, and critical information infrastructure;
categorises information assets and assesses information security risks;
plans and controls the compliance of information and process control systems with the corporate information security standards;
raises employee awareness in information security;
protects assets using technical means and manages information access;
monitors threats to information security and the use of technical protection means, including vulnerability analysis, intervention testing, cryptographic protection of communication channels, controlled access to removable media, protection from confidential data leakages, mobile device management;
develops information security regulations;
procures that the corporate information security management system is set up and duly certified;
takes measures to provide secure remote access.
4. Technical and production risk
Description
Mitigants

Technical and production risk relates to events that can be caused by technical, production-related, or natural factors that, if occur, can have a negative impact on the progress of the production programme and result in equipment breakdowns or damage to third parties and the environment that will require compensation.

Key risk factors:

Harsh weather and climatic conditions, including low replaces transmission towers; temperatures, storm winds, snow load
Unscheduled stoppages of key equipment due to excessive wear and tear
Release of explosive gases and flooding of mines
Collapse of buildings and structures
Infrastructure breakdowns

Risk assessment

Risk level change y-o-y

none

To manage this risk, the Company:

properly and safely operates its assets in line with the requirements of the technical documentation, technical rules and regulations as prescribed by the local laws across the Company's footprint;
rolls out an automated system for managing reliability, efficiency and risks associated with production assets;
timely replaces its fixed assets to ensure that production safety is at the required level;
rolls out a geotechnical monitoring system across operations to perform ongoing monitoring of the Company's buildings and structures;
uses satellite monitoring of the Company's facilities with subsequent analysis of the monitoring data;
introduces automated systems to control equipment process parameters, uses modern engineering control systems;
improves the maintenance and repair system;
trains and educates its employees both locally, on site, and centrally, through its corporate training centres;
develops the technical and production risk management system, including by engaging independent experts to assess the system efficiency and completeness of data;
develops and tests business continuity plans outlining the steps that need be taken by the Company's personnel and internal service providers where technical and production risks cause the largest possible damage. The plans aim to ensure that the Company resumes its production as early as possible;
annually engages independent surveyors to analyse the Company's exposure to disruptions in the production and logistics chain and assess related risks.
In 2020, key technical and production risks were insured as part of the property and business interruption (downtime) insurance programme, with emphasis placed on best risk management practices in the mining and metals industry
5. Power blackouts at production and social facilities in the Norilsk Industrial District (NID)
Description
Mitigants

A failure of key equipment at the generating facilities and transmission networks may result in power, heat and water shortage at key production facilities of the Company's Polar Division and social facilities in the NID.

Key risk factors:

Isolation of the NID's power system from the national grid (Unified Energy System of Russia)
Harsh weather and climatic conditions, including low replaces transmission towers; temperatures, storm winds, snow load
Length of power, heat and gas transmission lines
Wear and tear of key production equipment and infrastructure

Risk assessment

Risk level change y-o-y

none

To manage this risk, the Company:

operates and maintains generating and mining assets as required by the technical documentation, industry rules, regulations, and laws;
monitors the technical condition of linear facilities, including monitoring by independent experts;
timely constructs and launches transformer facilities, timely replaces transmission towers;
timely upgrades (replaces) TPP and HPP power units' equipment;
timely upgrades and renovates trunk gas and condensate pipelines and gas distribution networks.
6. Compliance risk
Description
Mitigants

This risk relates to legal liability and/or legal sanctions, significant financial losses, suspension of production, revocation or suspension of licences, loss of reputation, or other adverse effects arising from the Company's noncompliance with the applicable regulations, instructions, rules, standards or codes of conduct.

Key risk factors:

Discrepancies in rules and regulations
Considerable powers and a high degree of discretion exercised by regulatory authorities

Risk assessment

Risk level change y-o-y

none

To manage this risk, the Company:

implements initiatives to ensure the compliance with the applicable laws;
ensures that its interests are protected during surveillance inspections or in administrative offence cases;
ensures that its interests are protected during pre-trial and trial stages;
includes in contracts provisions protecting its interests;
implements initiatives to combat corruption, money laundering, and financing of terrorism and proliferation of weapon of mass destruction, and to manage conflicts of interests;
takes actions to prevent unauthorised use of insider information and market manipulation;
ensures timely and reliable information disclosures as required by the applicable Russian and international laws;
gives its employees training in dealing with insider information and combating corruption;
conducts induction briefings on anti-corruption.
7. Social risk
Description
Mitigants

The risk relates to increased tension among the workforce due to the deterioration of social and economic conditions in the Company's regions of operation.

Key risk factors:

Projects that have an impact on headcount / staffing
Failure of some employees and/or third parties to share the Company's values
Limited opportunities for annual wage indexation
Dissemination of false and inaccurate information about the Company's plans and operations among the Group's employees
Reallocation of spending on social programmes and charity

Risk assessment

Risk level change y-o-y

none

To manage this risk, the Company:

strictly abides by the collective bargaining agreements made between the Group's companies and employees (23 bargaining agreements in total);
actively interacts with regional and local authorities, and civil society institutions;
fulfils its social obligations under public-private partnership agreements;
implements the World of New Opportunities charity programme aimed at supporting and promoting regional public initiatives, including those geared towards the indigenous peoples of the Taimyr Peninsula;
puts in place infrastructure to enable accelerated development and improved quality of life across the Company's regions of operation in cooperation with the Norilsk Development Agency, the Second School Centre for community initiatives in the Pechengsky District, and the Monchegorsk Development Agency;
implements regular social monitoring across the Group's operations;
conducts opinion polls among Norilsk's communities to learn more about their living standards, employment, migration trends and general social sentiment, and identify major challenges;
implements social projects and programmes aimed at supporting employees and their families, as well as the Company's former employees;
engages in dialogues with stakeholders and conduct opinion polls while preparing public sustainability reports of the Group;
implements a set of social support initiatives for the personnel facing redundancies as part of social programmes of Kola MMC and Pechengastroy and is involved in developing and implementing roadmaps for the social and economic development of the Pechengsky District.
8. Risk of insufficient water resources
Description
Mitigants

Water shortages in storage reservoirs of the Company's hydropower facilities may result in failure to achieve necessary water pressure at HPP turbines leading to limited power production and drinking water shortages in Norilsk.

Key risk factors:
Abnormal natural phenomena (drought) caused by climate change

Risk assessment

Risk level change y-o-y

none

To manage this risk, the Company:

builds a closed water circuit to reduce water withdrawal from external sources;
performs ongoing hydrological monitoring to forecast water level in rivers and water bodies;
in cooperation with the Federal Service for Hydrometeorology and Environmental Monitoring (Rosgidromet) sets up permanent hydrological and meteorological monitoring stations to ensure more accurate water level forecasting in its regions of operation;
dredges the Norilskaya River and reduces energy consumption at the production facilities, should the risk materialise;
replaces equipment at hydropower plants to increase power output through improving the performance of hydroelectric units.
9. Soil thawing*
Description
Mitigants

Loss of pile foundation bearing capacity may cause deformation of buildings and structures leading to their destruction.

Key risk factors:

Climate change, average annual temperature increase (over the last 15–20 years). Increased depth of seasonal thawing

Risk assessment

Risk level change y-o-y

none

To manage this risk, the Company:

regularly monitors the condition of foundation beds for buildings and structures built on permafrost;
runs geodetic control of changes in buildings' positions;
uses satellite monitoring of the Company's facilities with subsequent analysis of the monitoring data;
rolls out a geotechnical monitoring system across operations to perform ongoing monitoring of the Company's buildings and structures;
monitors soil temperature at buildings' foundations;
monitors the facilities' compliance with operational requirements for crawl spaces;
develops recommendations and corrective action plans to ensure safe operating conditions for buildings and structures.
10. Epidemiological risk
Description
Mitigants

The risk is associated with infectious disease outbreaks and related preventive and anti-epidemic measures.

Key risk factors:

Viral infection outbreaks
Epidemiological restrictions imposed by national and local governments

Risk assessment

Risk level change y-o-y

increase

The Company has implemented a set of measures to mitigate the consequences of the risk materialisation:

full pay levels maintained;
additional compensation paid during the first several months of the pandemic to employees working on permanent workstations;
remote working arrangements put in place for office staff;
personal protective equipment, tests, control devices, disinfectants and other required supplies procured for all the Group's assets;
support provided to increase the capacity of local hospitals;
support provided to SMEs;
local volunteers assisted in supporting employees who require regular health monitoring;
mandatory testing for COVID-19 put in place;
an emergency task force set up;
a two-week quarantine put in place for shift workers arriving in the Norilsk Industrial Region;
extended shifts introduced for shift workers arriving in Chita/Norilsk.
Respect for human rights
UN Global Compact Principles
Principle 1: Businesses should support and respect the protection of internationally proclaimed human rights.
Principle 2: Businesses should make sure that they are not complicit in human rights abuses.
Respect for human rights is one of fundamental principles of Nornickel's operations.
The Company does not tolerate any forms of discrimination and does not use forced or child labour, giving every employee an equal opportunity to exercise their labour rights regardless of gender, race, nationality, origin, financial, social, and occupational status, age, domicile, religion, political beliefs, and other circumstances not related to professional qualities. The Company is also committed to addressing socially significant issues in all regions of its operations. No operations are run in, and no raw materials are procured from, areas involved in military conflicts.
As a socially responsible business, major employer and a taxpayer, Nornickel respects and promotes human rights and freedoms in line with internationally recognised norms and practices. Also, the Company fully complies with the applicable laws of the Russian Federation and other countries of its operations and respects both international standards for human rights protection and labour standards set out in the International Bill of Human Rights, the ILO Declaration on Fundamental Principles and Rights at Work and the UN Guiding Principles on Business and Human Rights.
We operate in countries with a mature legal framework where the risk of human rights violations is very low. Hence, by observing applicable Russian laws, for instance, we automatically comply with most of the core ILO conventions on human rights ratified by our government.
Importantly, even though some of the above ILO conventions on human rights are not officially ratified by Russia and not directly enshrined in the national law, Nornickel seeks to voluntarily comply with them in its by-laws and operations.
Core ILO conventions ratified by the Russian government
Human rights area
ILO convention
Ratified by Russia
Decent working conditions
Weekly Rest (Industry) Convention No. 14 (1921)
+
Protection of Wages Convention No. 95 (1949)
+
Weekly Rest (Commerce and Offices) Convention No. 106 (1957)
+
Holidays with Pay Convention No. 132 (1970)
+
Safe working conditions
Occupational Safety and Health Convention No. 155 (1981)
+
No child or forced labour
Forced Labour Convention No. 29 (1930)
+
Abolition of Forced Labour Convention No. 105 (1957)
+
Minimum Age Convention No. 138 (1973)
+
Freedom of association and collective bargaining
Freedom of Association and Protection of the Right to Organise Convention No. 87 (1948)
+
Right to Organise and Collective Bargaining Convention No. 98 (1949
+
Workers' Representatives Convention No. 135 (1971)
+
Rights of indigenous peoples
Indigenous and Tribal Peoples Convention No. 169 (1989)
-
Non-discrimination
Equal Remuneration Convention No. 100 (1951)
+
Discrimination (Employment and Occupation) Convention No. 111 (1958)
+
Human rights governance
The Company's commitment to respect human rights is reflected in its Human Rights Policy* and other by-laws governing HR, environmental, social and other matters.
The Company's President is responsible for ensuring that Nornickel respects human rights. The Company's management and employees are committed to complying with Russian and international laws and the Company's by-laws on human rights. The Company has a clear governance structure with a defined hierarchy for reporting and escalating concerns about human rights issues.
Nornickel regularly assesses the potential impact of its operations on human rights. On top of addressing human rights risks and ensuring full compliance with applicable requirements, the Company also implements best practices (signs employment contracts and collective bargaining agreements, creates favourable work and rest conditions for employees) and expects its suppliers and contractors to respect human rights throughout their operations.
All of the Company's new projects are vetted for compliance with national and international legislation and are subject to a comprehensive human rights review, including an impact assessment. These checks involve over ten of Nornickel's departments and functions.
Information on alleged human rights violations is collected via Nornickel's Corporate Trust Line, employee questionnaires, and sentiment surveys among local population. The Company guarantees confidentiality for whistle-blowers and respondents. Report statistics are regularly reviewed by the Audit and Sustainable Development Committee of the Board of Directors.
Respect for human rights across Nornickel's operations
Key human rights*
Nornickel's by-laws
Approaches and key achievements in 2020

Business Ethics Code

Human Rights Policy

Equal Opportunities Programme

Working Conditions Policy*

Occupational Health and Safety Policy

Personal Data Policy

Freedom of Association Policy

Policy Regarding Support for Small and Medium Enterprises

Local Community Relations Policy*

Environmental Policy

Environmental Impact Assessment Policy

Biodiversity Policy

Renewable Energy Sources Policy

Indigenous Rights Policy*
Right to life, freedom, and privacy, freedom from arbitrary arrest
In 2020, the Company's health and safety indicators were some of the best in the metals and mining industry, with LTIFR going down to 0.21 against 0.32 in 2019.
Right to health and medical assistance
Right to protection from discrimination
406-1
The Company does not tolerate discrimination on any grounds.

In 2020, we had no reported cases of racial, gender, religious, political, social or other discrimination.
Right to freedom of association and collective bargaining
The Company maintains a social partnership framework, with collective agreements covering 93.7% of the workforce
Right to work and to fair and adequate remuneration
The average salary paid to Nornickel's employees is well above Russia's average. The Company takes steps to secure jobs for vulnerable population groups and people with disabilities.

Women have equal rights to men
Other labour rights (fair and favourable working conditions, social support, reasonable work schedule, ban on forced labour, regular paid vacations)
The Company complies with Russian employment laws that are in line with the UN documents ratified by Russia. Forced labour is forbidden.
Right to education
The Company runs a wide range of training courses for all of its personnel categories, providing career guidance and targeted support to educational institutions across its geographies.
Protection of family, maternity and childhood
Child labour is forbidden

The Company respects and protects the rights of mothers and pregnant women.

Its social programmes in the fields of housing, healthcare and culture aim to support and provide leisure opportunities for families.
Freedom of movement
The Company does not restrict the freedom of movement of its employees. It reimburses round trip travel expenses and baggage fees as part of the benefits package. In 2020, we helped a number of our people stranded abroad amid the COVID-19 lockdown to return to Russia.
Right to shelter, right to own property
The Company does not implement or plan to implement projects related to taking land from the population and forced relocation. No disputes with the local population over land use were recorded.
Right to a healthy environment
The Company continuously works to reduce its environmental footprint and implements a comprehensive environmental policy. In 2020, we took all steps to respond to environmental incidents and plan to fully remediate the affected areas in the mid term.
Rights of indigenous peoples
The Company supports projects aimed at preserving the traditional lifestyle and culture of Taimyr's indigenous peoples while fostering their social and economic development. It includes organising air transportation, supplying construction materials and diesel fuel, and staging festivals and cultural events.

In 2020, we adopted a comprehensive five-year programme to aid indigenous northern minorities worth over RUB 2 bn.

We also helped conduct a full-scale ethnological review to evaluate the damage caused to these peoples as a result of the fuel spill at NTEC's HPP-3 in May 2020 and agreed to pay a compensation of RUB 175 mln, which is unprecedented in Russia.
Stakeholder engagement
Stakeholders and interaction mechanisms
Effective stakeholder engagement enables us to properly manage risks and opens up new opportunities for integrating sustainability principles into our strategy. 102-42
Stakeholder engagement principles and procedures are set out in MMC Norilsk Nickel's Business Ethics Code* , Human Rights Policy, Local Community Relations Policy, Transparency Policy and other by-laws. We maintain dialogue with stakeholders in line with international standards andaccountability principles* .
Our key stakeholders are employees, shareholders, investors, business partners, national and local government authorities, local communities, and Russian and international non-profit organisations. We keep working to strengthen our relations with stakeholders, with a focus on timely collecting full information on their interests and proposals, designing and improving relevant accounting methods used in management practices, improving cooperation mechanisms and enhancing all aspects of dialogue across our footprint.
Our Corporate Trust Line is a permanent tool to manage complaints and queries created in 2010 for a wide audience. It helps identify and quickly respond to matters of importance for stakeholders.
For more information, see the Preventing and Fighting Corruption section.
Stakeholders
Key interests of stakeholders
Interaction mechanisms
Shareholders, investors and rating agencies

Shareholders and investors
Russian and international investment banks and brokers
Russian and international analytical and rating agencies

Capitalisation growth
Maintaining investment grade credit ratings
Dividends
Transparency of information and timely disclosure of key facts
The Company's sustainable development

Meetings (including one-on-one meetings) and conference calls
Phone calls and emails
Disclosures through presentations and press releases on the website

Staff and trade unions

Company employees
Trade unions

Social benefits and guarantees
Decent salaries
Favourable working conditions
The Company's stability as an employer (including matters associated with the shutdown of production facilities)

Joint commissions, committees and working groups
Discussions with trade unions and labour councils
Offices for operational, social and labour matters
Opinion polls
Corporate media, booklets, information screens and boards
Corporate intranet portals

Business partners
Suppliers and contractors

Accessibility of procurement procedures and awareness
Streamlining procurement as regards timelines and engagement procedures
Participation in MMC Norilsk Nickel programmes

Meetings, conferences, exhibitions, hosting negotiations
Automated procurement platform (SAP-based)

Product quality
Packaging and labelling
Delivery terms
Information support of transactions
Sustainable growth of sales markets
Registration of products in sales markets

Meetings
Annual surveys
Working with customers on matters of product quality
Processing customer complaints and grievances
Official meetings, conferences, exhibitions
Working with customers in connection with the consumption and market growth prospects analysis
Working with regulators and commodity exchanges

Federal authorities

Legislative and executive federal bodies
Control and supervision government agencies

Socially important projects
Regulatory improvements in various areas
Discussing draft regulations
Reducing administrative barriers
Improving business climate
Environmental protection
Support for domestic producers
Stability in taxes
Strengthening enterprises' economic security

Participation in working and expert groups, commissions, and committees
Public events and conferences
Obtaining permits
Participation in intergovernmental commissions

Regional government authorities and local communities

Regional government authorities
Local authorities
State-run research and educational institutions in the Company's regions of operation
Local communities and civil society organisations across the Company's footprint

Stability in taxes
Environmental impact regulation
Social stability support across the Company's geographies
Support for domestic producers
Training highly skilled professionals to meet business needs

Working and expert groups, commissions, committees and councils
Cooperation agreements
Development plans for the Company's regions of operation
Corporate and partnership programmes and projects
Forums, conferences, fairs, and round table discussions
Joint inspections, drills and training exercises

Russian and international non-profit organisations

Russian and international business associations
Russian and international industry unions
Non-profit environmental organisation
Non-profit social and sports organisations

Socially important projects
Information exchange
Removal of administrative barriers
Discussing draft regulations
Support for domestic producers
Stability in taxes
Environmental protection and industrial ecology

Involvement in the work of committees and commissions of Russian and international organisations
Joint projects
Events (congresses, meetings, round table discussions, conferences and competitions)
Membership in governing bodies and committees
Opinions, proposals, requests
Investor dialogue and key ESG ratings
In 2020, despite the COVID-19 pandemic, we maintained an active dialogue with investors and continued to diversify our shareholder base.
From March 2020, after the start of the nation-wide lockdown in Russia, all investor communications migrated online. For the first time in the Company's history, the top management held over 300 virtual meetings with investors and organised an Investor Day remotely along with conference calls on IFRS results and spill clean-up operations at HPP-3.
As part of our dialogue with investors, we note their increasing interest in responsible investing. One of the key initiatives in this domain is the Principles for Responsible Investment (PRI), signed by over 3,000 investors (up 28% in 2020 alone) with north of USD 100 tn of assets under management.
Another important effort is Climate Action 100+ led by more than 500 investors with over USD 50 tn of assets under management to ensure support for action on climate change.
We seek to increase transparency by improving and expanding sustainability disclosures on our corporate website, in various global databases and surveys, investor presentations and dedicated reports. To strengthen dialogue with investors and rating agencies taking ESG-driven investment decisions and using these factors to assess the Company, we created a dedicated section called ESG Highlights on our website. It features all the related corporate information subject to regular updates.
Key ESG ratings
Name
Current status/score
After joining the UN Global Compact in 2016, the Company has continuously demonstrated its commitment to sustainability principles
The agency confirmed the inclusion of Nornickel's shares in the FTSE4Good Emerging Index, with a score of 4.0 out of 5
ISS gave us environmental and social ratings at 3, and corporate governance – at 4 on a scale from 1 (low risk) to 10 (high risk)
ESG score of 44 (out of 100), up from 33/100 in 2019
ESG score of 61 (out of 100), Average Performer rating (in 2019 – 63); ESG risk of 38.9 (out of 100)
ESG rating "В", score of 3.3 (out of 10)
In 2020, Nornickel provided its first ever disclosures to CDP
Ratings: "D" (Climate Change), "C" (Water Security)
The Company has invariably ranked among the index leaders since 2014 (first year they were composed)
Dialogue with employees
The key tools we use to build dialogue with our people are social partnerships regulating labour relations and offices for social and labour relations. We conduct regular surveys to measure employee engagement and assess social programmes, along with targeted polls.
As a way to raise awareness, shape a better understanding of the Company's goals and values, and increase the level of trust between the team and the management, we are running a number of initiatives to establish a dialogue between senior executives and the personnel. The following activities were held as part of the project in 2020:
31 corporate dialogues
Norilsk Live, a Q&A session with the Company's Vice Presidents
Challenges-2020: Pandemic, Environment and Safety video conference
More than 45,000 Nornickel employees participated in the initiative.
In 2020, we also launched a series of large-scale information campaigns involving over 55,000 employees of Nornickel's divisions and RBUs to discuss salary indexation, supplement payments, bonuses for production and business achievement and improvements following the engagement survey.
To support our people during the COVID-19 pandemic, we set up a response centre, task forces at divisions and RBUs, and a corporate hotline. In 2020, hotline operators handled 3,300 queries.
The reporting year saw a landmark event – the shutdown of the smelting shop in Nikel. When designing support measures for our staff, we leveraged the successful experience gained during the shutdown of Nickel Plant in Norilsk in 2016. As part of the shutdown, we provided a full package of social benefits to the shop personnel, including comfortable relocation to other sites, retraining and pension plans. Between 2020 and 2022, the Company will invest more than RUB 900 mln in a range of social programmes for smelting shop employees. 102-10
For more details, please see the Human Capital section.
Dialogue with business partners
As a participant in the global supply chain, the Company shares its partners' sustainability values and undergoes regular audits in accordance with sustainable development and responsible supply policies. These audits take place as part of systemic independent ESG reviews requested by our partners.
An important element of our relations with business partners is advancing the responsible consumption of precious metals and metal-bearing products and creating a global mechanism to ensure the reliability of precious metal supplies as part of international non-profit organisations of producers and market players, such as the International Platinum Group Metals Association (IPA), International Information Security Research Consortium (IISRC) and the International Nickel Institute.
Twice a year, we publish nickel and PGM market reviews prepared together with ICBC Standard Bank based on the fundamental analysis of global economic and industry data. They offer the market a deep and high-quality insight into trends and forecasts in this domain.
The Company's expertise and solid track record in creating powerhouse industrial businesses that leverage cutting-edge technologies have laid the groundwork for successful implementation of projects with partners in both traditional and emerging industries.
In particular, we keep working on our innovative project to integrate business in the digital ecosystem to increase efficiency and transparency across the entire metal supply chain and support responsible sourcing. We plan to make part of our supply contracts digital using the Atomyze platform powered by the distributed ledger technology. In 2020, Nornickel's Global Palladium Fund issued the first tokens to digitise contracts with several major customers.
Dedicated to meeting the growing demand for battery materials used in electric vehicles, the strategic partnership between BASF and Nornickel became a landmark event for achieving SDGs and supporting green economy. In 2020, Fortum, BASF, and Nornickel signed a memorandum of intent to create a battery recycling cluster in Finland, serving the electric vehicle market.
In our relations with suppliers and contractors, we focus on building an open and productive dialogue supported primarily through competitive procurement, feedback via a dedicated Suppliers section on our website, conferences and SAP SRM interactions.
For more details, please see the Supply Chain Responsibility section..
Dialogue with authorities, communities and non-profit organisations
Norilsk Nickel Group's guiding principles in cooperating with government bodies, local authorities and non-profit organisations are strict compliance with Russian laws, regional and municipal regulations and the social responsibility principle, collaboration, and mutual respect of interests.
Following the information transparency principle, we have initiated an open dialogue with local authorities to build constructive and effective cooperation. The Company is represented in 25 committees, commissions, expert and working groups established by governmental bodies in association with the business community, thus supporting socially important projects. Currently, we mainly cooperate with the working groups under the Government Commission on the Use of Natural Resources and Environmental Protection. We also actively participate in the work of regional authorities' expert boards across our geography.
The Company takes part in parliamentary sessions and round table discussions organised by the Federation Council and State Duma of the Federal Assembly of the Russian Federation, Government of the Russian Federation, Civic Chamber of the Russian Federation, Russian Union of Industrialists and Entrepreneurs, Chamber of Commerce and Industry of the Russian Federation, Association of Managers (an interregional public organisation), etc.
The Company's experts engage in draft regulation discussions held by the Open Government and by community councils of the federal executive bodies, as well as in anti-corruption due diligence and regulatory impact assessments. All of that helps maintain a constructive dialogue with the government, cut administrative red tape and improve business climate.
Our representatives are also part of various working groups created by federal executive authorities to help implement the regulatory guillotine mechanism. A regulatory guillotine is a Russian regulatory reform launched in 2019 to revise mandatory business requirements in effect.
Over the past year, we backed a number of large international and domestic conferences and forums:
9th Moscow International Forum "Corporate Volunteering: Business and Society";
5th International Humanitarian Teaching Forum "Living Classics";
8th National Conference of Transport Security and Anti-terrorism Technologies;
R&D Conference "Corporate Security as Part of Russia's National Security";
R&D Conference "Transport Safety Formula. Law. Knowledge. Practice";
National Conference "The Language of the North";
International Research Conference "Svalbard: from Terra Nullius to All Man's Land".
Cooperation agreements
In 2020, we signed a number of agreements with federal, regional and local authorities as well as major Russian companies.
The agreements covered a wide range of social and economic issues, including infrastructure projects.
Key agreements:
Partners
Subject of agreement
Saratov Region
The parties will join forces to unlock the regions' human resource potential and build a talent pipeline for Nornickel's enterprises by developing and implementing educational programmes together with industry-specific universities in the Saratov Region. An important part ofthe cooperation is to support the region in times of epidemics and other force majeure events.
Murmansk Region
Initiatives to develop social infrastructure, including co-financing the renovation of the Murmansk Region's Bayandin Clinical Hospital and the construction of an ice arena in Monchegorsk
Trans-Baikal Territory
Cooperation and support for Nornickel's investment projects and its increased contribution to the local social development.

Key focus areas are education, science, healthcare, sports and physical training, arts and culture, as well as social support and environmental protection. Nornickel committed a total of RUB 2.4 bn for these purposes. One of the major steps is allocating RUB 35 mln a year to support children's and youth hockey in 2021–2023.
Federal Tax Service
Pricing rules and transfer pricing methods to be used in transactions related to the export of Nornickel's semi-products for further processing at the Company's facility in Harjavalta, Finland.



For more details, please see the Tax Strategy section.

Organisations representing the
indigenous peoples of the North
who live on the Taimyr Peninsula
A comprehensive programme to support the indigenous northern minorities to 2024



For more details, please see the Interaction with Indigenous Northern Minorities section.
Relocation programme
In 2011, we signed a special agreement with federal and regional authorities to contribute to a long-term targeted federal programme for relocating people living in Norilsk and Dudinka to other Russian regions with favourable climate conditions. During 2011–2020, 8,219 families, including 6,713 families from Norilsk and 1,506 families from Dudinka, received social benefits under the programme for the purchase of housing on the "mainland". In 2020, 507 certificates granting the right to receive social benefits for housing were issued (387 for Norilsk and 120 for Dudinka), all valid until 1 December 2021. The participants are continuing to purchase housing under the programme
In 2020, though the agreement ceased to be effective, we decided to keep financing it unilaterally. In September 2020, Nornickel's President resolved to allocate RUB 830 mln for relocation purposes.
Local communities
We do our best to collect and take into account all the feedback from local residents on regional development and high-potential projects through interactions at forums, targeted surveys, polls, focus groups, foresight sessions, etc. Key parties to the dialogue are regional development centres established in cooperation with Nornickel, such as the Norilsk Development Agency, the Second School Centre for social projects in the Pechengsky District, and the Monchegorsk Development Agency (created in 2020).
In 2020, together with stakeholders we designed the Conceptual Framework for the Social and Economic Development of the Pechengsky District and conducted surveys as part of creating the Pechengsky District brand and master plans of Zapolyarny and Nikel. This coincided with the shutdown of the non-moderniseable smelting shop in Nikel during the year as part of the programme to stabilise the situation and set stage for the sustainable social and economic development of the settlement and the Pechengsky District post shutdown. 102-10
For more details, please see the Company's Contribution to the Development of Local Communities and Improving the Living Standards for Local Communities sections.
Environmental protection dialogue
Environmental dialogues are traditionally a priority area in the Company's information, internal and external communication policies.
In 2020, the following items were on the agenda of various forums and platforms:
clean-up of the diesel fuel spill at NTEC's HPP-3;
preservation of ecosystems across the footprint of the Group's production sites;
industrial ecology problems.
improvement of environmental laws and regulations;
promotion of best practices in environmental protection;
• environmental programmes and initiatives of Nornickel.
Coverage of the fuel spill clean-up
We provided real-time updates on the fuel spill clean-up in the dedicated section on our website* .and in social media. The Company ensured close interaction with stakeholders, quickly responding to their requests for information. The civic chambers of Russia and Norilsk organised dedicated round tables, which served to provide information on the clean-up progress and stage discussions with the Company's top managers.
For more details, see the Environmental Responsibility section.
As part of the annual Investor Day held in December 2020, the management updated the investment community on Nornickel's operating and financial performance, its metals market outlook and strategic vision for the next decade focusing on sustainable and eco-friendly development. For more details, please see the Strategy and Management section.
Ecology was also at the top of the agenda at multiple international and domestic forums backed by Nornickel and attended by government representatives, captains of industry, investors, experts, and analysts:
International Forum "Arctic and Antarctic Days in Moscow"
International Forum "Arctic: Today and the Future"
Our representatives are closely involved in developing key draft laws on natural resources management, environmental protection, environmental impact fees, environmental charges, and amendments to laws on preferential conditions for investments in the Arctic.
Over the years, we have successfully used volunteer movements to promote dialogue on environmental protection with our employees and local communities. One of our major projects in this area is the Let's Do It environmental marathon bringing together thousands of our employees and local community members to support nature reserves, clean up certain areas, transplant young trees, and carry out other environmental initiatives.
Dialogue in public non-financial reporting
Each year starting from 2003, the Company has been engaging in dialogues with stakeholders while drafting sustainability reports. 102-43 102-46
Since 2014, we have staged these dialogues as part of the We Are the City! social technologies forum. Our reports undergo public verification including assurance by the Russian Union of Industrialists and Entrepreneurs.
As part of preparing the 2020 Sustainability Report, we held an online foresight dialogue – the first ever for the Russian metals and mining industry. Representing Nornickel were Andrey Bougrov, Senior Vice President for Sustainable Development, Larisa Zelkova, Senior Vice President – HR, Social Policy and Public Relations, and Svetlana Ivchenko, Head of the Sustainable Development Department.
In the course of the event, we presented the concept of the 2020 report and our strategy, updated to reflect the report's focus on the environment and development of local communities. We also had our matrix of material and additional disclosures verified by the experts.
For more details on the dialogue, please see the Definition of Material Topics and Stakeholder Dialogue Minutes appendices.